The Executive President of ETCO, participated last Monday (22) in a technical meeting at the headquarters of the Federal Police of Foz do Iguaçu. The meeting is part of the operational audit that is being carried out by TCU to assess governance aspects of Brazilian immigration policy and assess the extent to which the country has effective planning and concrete actions for the protection of Brazilian borders.
On the occasion, Minister Augusto Nardes, from the Federal Court of Accounts, presented a two-year review of the Federal Policies for the Border report, released in 2015 and which presented a critical scenario for public policies aimed at Brazilian borders. Among the conclusions of the work, the minister pointed out that the country does not have institutionalized policies in law to guide, in an integrated way, governmental action related to border issues; the low degree of investment; and the lack of human, material and financial resources of the agencies responsible for the prevention, control, inspection and repression of border crimes.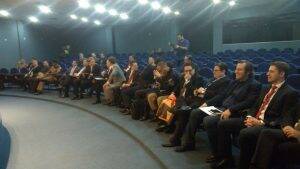 Two years after the report was released, very little was done to reverse this situation, and Brazilian borders are increasingly vulnerable to criminal organizations that dominate activities such as drug and arms trafficking and the smuggling of cigarettes, medicines, toys and others problems.